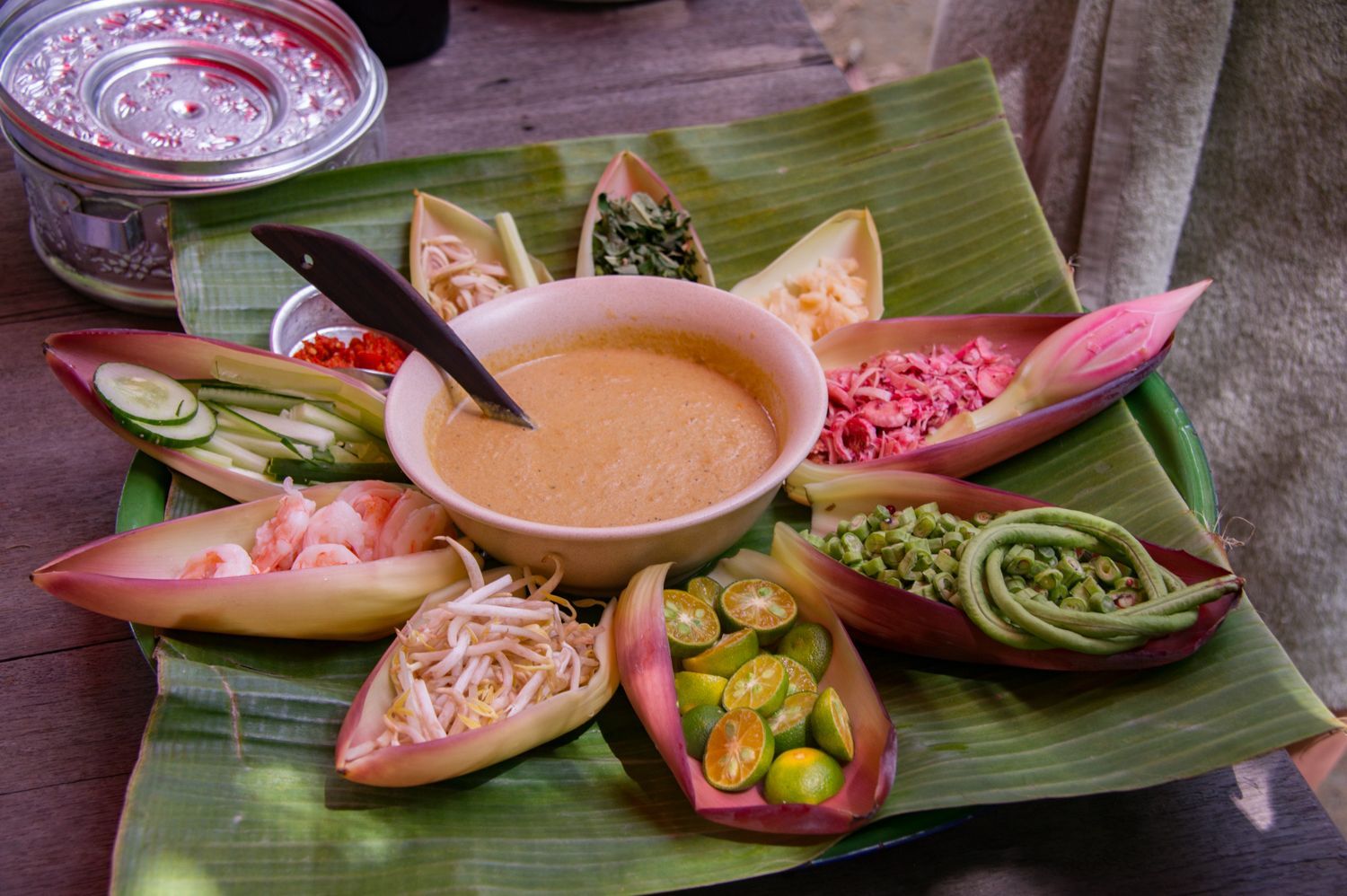 Laksa Johor for New Yorkers Amy and Jim at Bike and Tours B&B
When asked if Jim and Amy wanted to have dinner at our place upon their return from the picturesque Danum Valley. Both said yes. Amy said "perhaps something from the Malay cuisine?" whilst Jim was quick to remind us that Amy don't really take spicy food that well. Smiling both Simon and I answered "Sure, no worries". But deep down, this Malay girl was worried because most of the Malay dishes are spicy. At least the ones that I love are spicy. Simon has adapted to spice very well and at times he can take the hot sambal better than me.
And so, Amy's & Jim's request set a bit of a challenge for me. I thought of cooking my late mom's delicious cinnamon chicken that goes really well with steamed rice. But then, I am sure they would be served with lots of rice dishes at Borneo Rainforest Lodge.
I then turned to my dear friend Ezreen Anuwar as she is one person I know who do not take spicy food. I picked her brain for ideas. Funny, she told me that even though she does not take "pedas" or spicy food, she loves curry! And so she suggested Kurma. Kurma is great but I thought this was something the Malays adapted from the Indian cuisine. Besides, we have already presented the banana leave rice to Amy and Jim a few days ago - and this included a few different type of curry dishes.
Ezreen then suggested the Roti Jala! I thought this was brilliant! Roti Jala derived from the Malay word roti ("bread") and jala ("net"). A special ladle with a five-hole perforation used to make the bread looks like a fish net. We usually eat it with chicken and potato curry (Wikipedia.com).
However, after a few attempts at making the batter and frying these babies, we discovered the humble comfort food – roti jala is a work of art. Something that a homecook like myself needs time and endurance to master.
So to cut a long story short, I thought of what I like to eat when I was a child. And I remember clearly that each time I visited Ezreen and her sisters, Aunty Eveline (Ezreen's mom) would prepare for us either spaghetti Bolognese or the all-time Malay cuisine – Laksa Johor! Bingo! I was inspired. Laksa Johor is a dish, comfort food that is enjoyed by both adult and children. You can make it spicy by adding more sambal belacan (pounded chilli with roasted shrimp paste and a bit of lime) or enjoy it without the heat from the chilli.
And so we are all set for dinner this Saturday for Amy and Jim. We sure do hope they had eaten lots of rice in Danum Valley so the Laksa Johor will be a nice change to their tastebuds. We will explain that Laksa Johor originates from the state of Johor in Peninsular Malaysia. This, in our humble opinion will be a culinary risk we are taking because they will either like it or dislike it.
Over the past two years we met travellers from different walks of life. At times, not everyone one can take our local dishes. We realized that travellers from the western world may favour quite simply fried fish over steam fish. Others may favour creamy based gravy as opposed to ginger based clear soup.
Anyways, Laksa Johor is basically coconut and fish based curry gravy poured generously over spaghetti!!! Yes, spaghetti! This is not a dish where we try to be adventurous and add a new flair to the fusion world. Laksa Johor has always been traditionally served with the Italian Spaghetti. We have tried to discover the history of Laksa Johor and via the internet here is what we discovered and as quoted by Chef Wan – Malaysia's Food Ambassador:
"Laksa Johor has been associated with the Johor royal family since the reign of Sultan Abu Bakar at the end of the 19th century.
There is a curious tale behind its origins that is linked to a land very far from Asia.
"Sultan Abu Bakar travelled to Italy often and there he tasted spaghetti bolognaise. Returning to Malaysia, he told his chef to modify the recipe with fish sauce. Since then, Laksa Johor is popular and has become a frequent dish for ceremonies (Jakarta Post)
Well, who would have known that the "fusion" concept already existed during this era!!
The Laksa Johor that we are serving tonight for Amy and Jim will be garnished with beansprouts, snake beans, calamansi, poached shrimps (our own addition to this dish), basil leaves, Vietnamese coriander or 'daun kesum', cucumber and pickled white radish and potent sambal belacan (more for Jim as Amy don't take spicy food).
Should this local Malay dish gains the approval of our New Yorker guests, then Laksa Johor will be a new addition to Bike and Tours's Bed & Breakfast menu.
The verdict: Both Amy and Jim loved our Laksa Johor. When asked if we should serve it to other guests in the near future both answered "Absolutely!!" And so here's another addition to our B&B menu.
"Selamat menjamu selera – Bon Appetit."