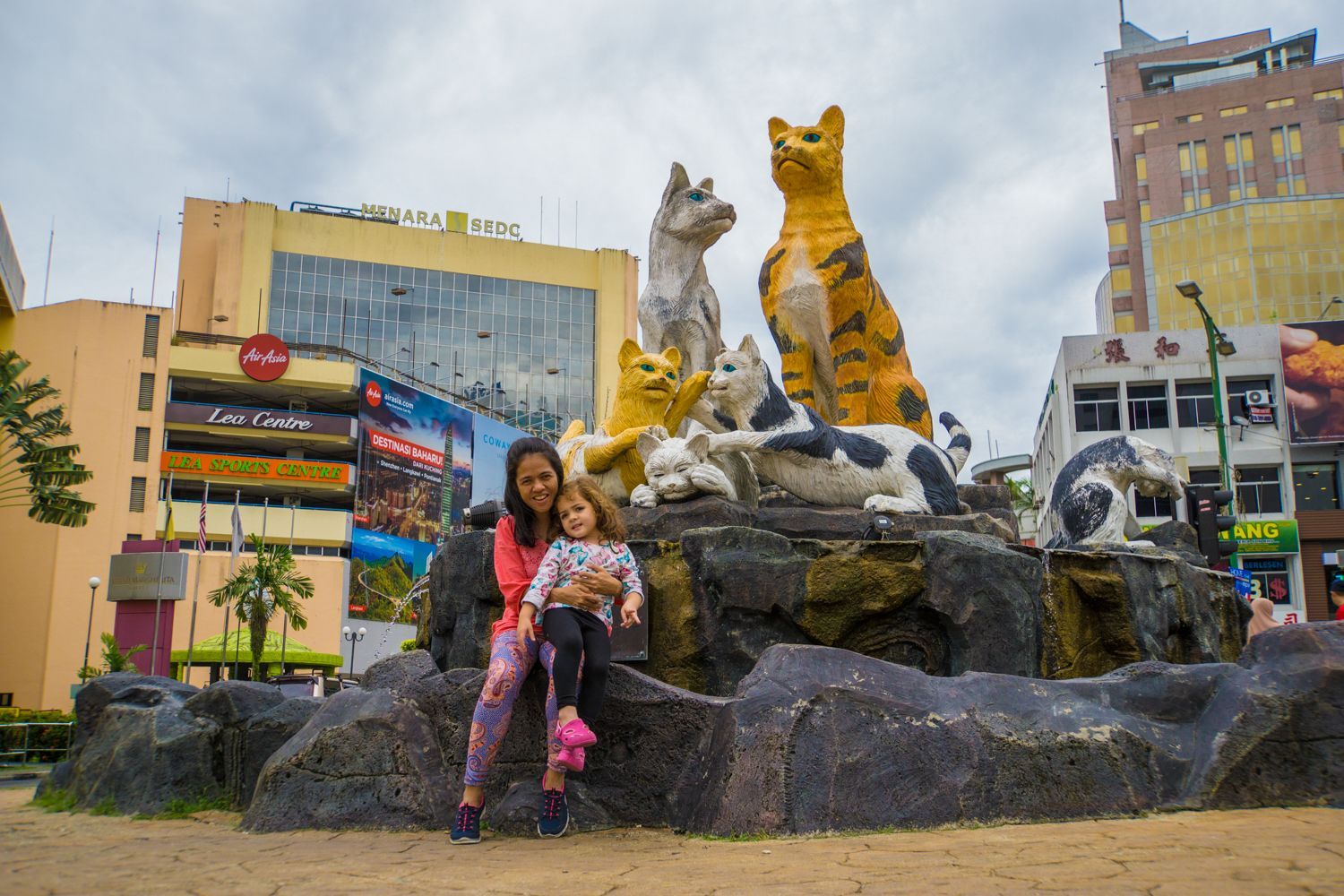 Sarawak – Beyond hornbills and colourful cakes!
Discovering Sarawak with our two young children.

1 Nov 2018
It's been a week since we came back from the land of the hornbills – Sarawak. Now that we are back in Sabah, we are blessed to be rewarded with the priceless memories of Sarawak, that is worth more than any Instagram worthy photos could relate to. Too many impressions that covered aspects of culture, art, nature, history and adventure that we just do not know how to begin this blog. And yes, it has been awhile since we have written any blogs due to work and family commitments. Nevertheless, for 2019 the goal is to make time for this space. Lets see.
As we landed in Kuching city #memorableadventures and quality time for our small family took shape. Being in the travel industry for the past few years now, our role as travel consultants/organizer/B&B owners always revolved around us being the host. So, it was good that this time around we were able to kick off our shoes and be on the other side of the fence. We were too busy before our holidays that we did not even look at the itinerary prior to arriving in Sarawak. All we had to do pre-holiday period was to inform our business partner in Sarawak of our interest, the places we are keen on visiting, our budget, what was important to us and the length of time we intended to be in Sarawak. They then carefully crafted an itinerary based on our requirements and availability and just like that flight tickets were booked and we were ready to go!
So there we were at the Kuching International Airport ready for our much-awaited family holiday. Just as I was about to check my itinerary, Khaliq our guide greeted us warmly at the arrival hall. Our first step of "nothing to worry about, everything is managed from the pick-up point till the end" commenced. We got in to the spacious van which Olivia till this day refers to "our bus". Yes, the shuttle was just for us and we slowly made our way out of the airport area.
The quiet but always smiling road navigator Kumar concentrated on the road as he drove us to our hotel. Khaliq on the other hand began his role as a guide. Sharing with us bits and pieces of information on Sarawak. Though the ride was less than 30 minutes to our hotel, Khaliq was so resourceful that he managed to briefly cover subjects on the different ethnic groups, nature, wildlife and cultural & historical aspects of Sarawak. Within this short span, we could already sense that he is really passionate about his career as a guide. An Engineer by profession, he followed his heart and took on guiding role to share with travelers the Sarawak story. He was our story teller with facts and figures and examples. If you have an assignment on Sarawak, you would definitely want to speak to him and pick his brain.
Such interesting conversation we had with Khaliq that before we knew it, the van pulled to a stop in front of Pullman hotel entrance– ahhh our home for the next 5 nights. As we needed sometime to catch up on rest and some quality time with our soon to be 4 years old Olivia and 20 months old Emelyn, we have requested from our business partner to book 5 nights at Pullman just for us to unwind and to explore Kuching on our own, at our own pace. Due to our lifestyle we are always with the presence of others. Definitely nothing wrong with that. But that would mean that in order to deliver excellent service quality, some of our personal time with the family was sacrificed. So, these few days of just us being together was crucial.
Part One: Kuching – you had us at "meow"
Our room at Pullman was spacious with huge glass windows that showcased the view of the Sarawak River and the New Sarawak State Legislative Assembly Building. The kids were too busy to appreciate this as jumping on the plush mattress and playing with the hotel phone was much more interesting. In as much as we would love to start walking and discover the city immediately, we realized that we were actually on holidays and do not have to rush into things as we used to whilst on "working" mode.
We eventually made our way slowly to discover the Kuching city by foot. We walked straight to the waterfront and what a sight. Traditional wooden tailboat stationed for the passengers to get across to the Malay Village. The river itself was clean not polluted with pet bottles as compared to what we have seen in some other states in Malaysia. It must be commented that Kuching city itself is very clean. The people were friendly. The heritage buildings were still preserved, and some turned into cafes/ restaurants. Some parts of the city reminded us of Penang with the charming narrow streets in the city, the sidewalk shops, Café culture is big and creative here too– from the local Kopitiam to the fusion inspired cafes. The graffiti which included different versions of the iconic Borneo orangutan and hornbills added character to the city. And boy did the cake lapis (layered cake) added a personality this state. Shops and side streets were filled with rainbow colored butter like cakes of different motives. On that hot day that we roamed the streets, their local "Ais Krim Gula Apong" is a must - delicious humble local ice cream made from the nipah palm sugar.
We are going to touch on food here as it is part of the travel. So if you are not so into food then you can skip reading this part.
Of course when one is in Sarawak, you can't leave the state without trying their signature dish Sarawak Laksa. Whilst Laksa is available in many parts of Malaysia, each state has its own spin on the laksa gravy and the noodles that goes with it. The Sarawak Laksa consists of hearty spiced shrimp paste that it cooked to the consistency of a thick broth. It is paired with rice vermicelli and topped with generous amount of key condiments such as shredded chicken, poached shrimps, fettuccini sliced omelet, coriander, sambal chili paste, beansprout and calamansi lime to add zest to the whole dish. We must say we were rather ignorant and thought that the Sarawak Laksa was available the whole day just like nasi lemak in Kuala Lumpur – for breakfast, lunch, dinner and supper! As we discovered the city in the later part of the afternoon, we learnt that this dish is something that the locals have for breakfast or lunch. As such, where food is concerned, quest by foot for Sarawak Laksa around 2:30pm was to no avail. We settled for another hearty local dish called mee kolok (egg noodles) which was tossed in transparent, light soya type of sauce served with sweet bbq chicken. That definitely satisfied our hunger and gave us Energizer stamina to discover the city even further.
When in Kuching city, you will notice a few cat monuments and wooden crafted cats sold at the souvenir shops. Kuching is associated with cats simply because Kuching means Cat in the Malay language. Therefore, Kuching is known as the Cat City. The famous cat statue is the one we often see travelers post on social media and the one in particular is the one located at Jalan Tunku Abdul Rahman, at a roundabout opposite of McDonalds. And so yes, the Cat Monument is a place where one can play tourist – local or foreigner. Like Chapel Bridge is to Luzern or Twin Towers is to Kuala Lumpur, taking a selfie or picture with the cat monument in the background is a proof that one has been to Kuching Sarawak.
We took a lot of "pause" moment as we walked our way to discover Kuching city. The "pause" was stretched a bit further as Simon and I travelled with our two young children. We opted to travel light and as such we left the baby stroller at home but did take along the baby carrier. As we get to our other destinations in Sarawak, the stroller was definitely not needed. It would have been a bulky baggage and we were happy with our decision of not having a stroller. However, discovering the city by foot and visiting the malls, there were times when my back hurt and I was very close to buy a cheap stroller! But I didn't in the end. Which makes me wonder do hotels or airports have the service of renting baby strollers? I am not talking about the strollers that some airports such as Emirates or Etihad provide in between transits at the airport (which by the way is very convenient for travelers with young children). Would be good if there is such service in Malaysia – just thinking out loud.
Our final destination on the first day in Kuching took us to a restaurant that our Sarawakian friend Lina recommended. We wanted local food and she made a great recommendation for us to try the food at Lepau Restaurant. It is about 10 minutes walk from Pullman or you can take a taxi for less than 5 minutes drive. The restaurant is tastefully done. Just the entrance welcomes you to a tribal mood. Lantern lights, tropical palm trees, outdoor dining split into two sections. One being the main serving area and the other space in the garden. As we were there during the "What About Kuching 2018 Festival", our arrival were greeted by the local musicians that soothingly strummed on the traditional Sape instrucment adding charm to the ambiance. Lepau restaurant offers food enthusiasts ethnic dishes from the Orang Ulu and Dayak tribe. Till this day we are still reminded by the food experience we had at Lepau. We tried their delicious broth base Ayam Pansuh which is chicken cooked with tapioca leaves in a bamboo, stir fried midin (a type of fern) with belacan (shrimp paste), fish umai (fish salad), deep fried salted fish (acquired taste but not to be missed by those who are open to the authentic local flavor). The salted fish is to be eaten bit by bit (as it is salty) with rice and not to put the whole big chunk in your mouth. The dishes are served with brown rice cooked in a special leaf (not too sure what it's called). We couldn't recommend this restaurant enough.
As we retired for the day and as night took charge, Kuching city comes to live. A buzz of man-made energy filled the atmosphere. Different tones of light from the streets, from the vehicles of city dwellers rushing back home or nearby dining area, from the diamond like neon beams that enhance the silhouette of a building. Seeing it from the window of our hotel room, it was as if the glitter fairy came and scattered magical glow to the night.
Selamat Malam Kuching. You have treated us well on our first day here and we look forward to many more days discovering you further.
Please visit our Sarawak offers!