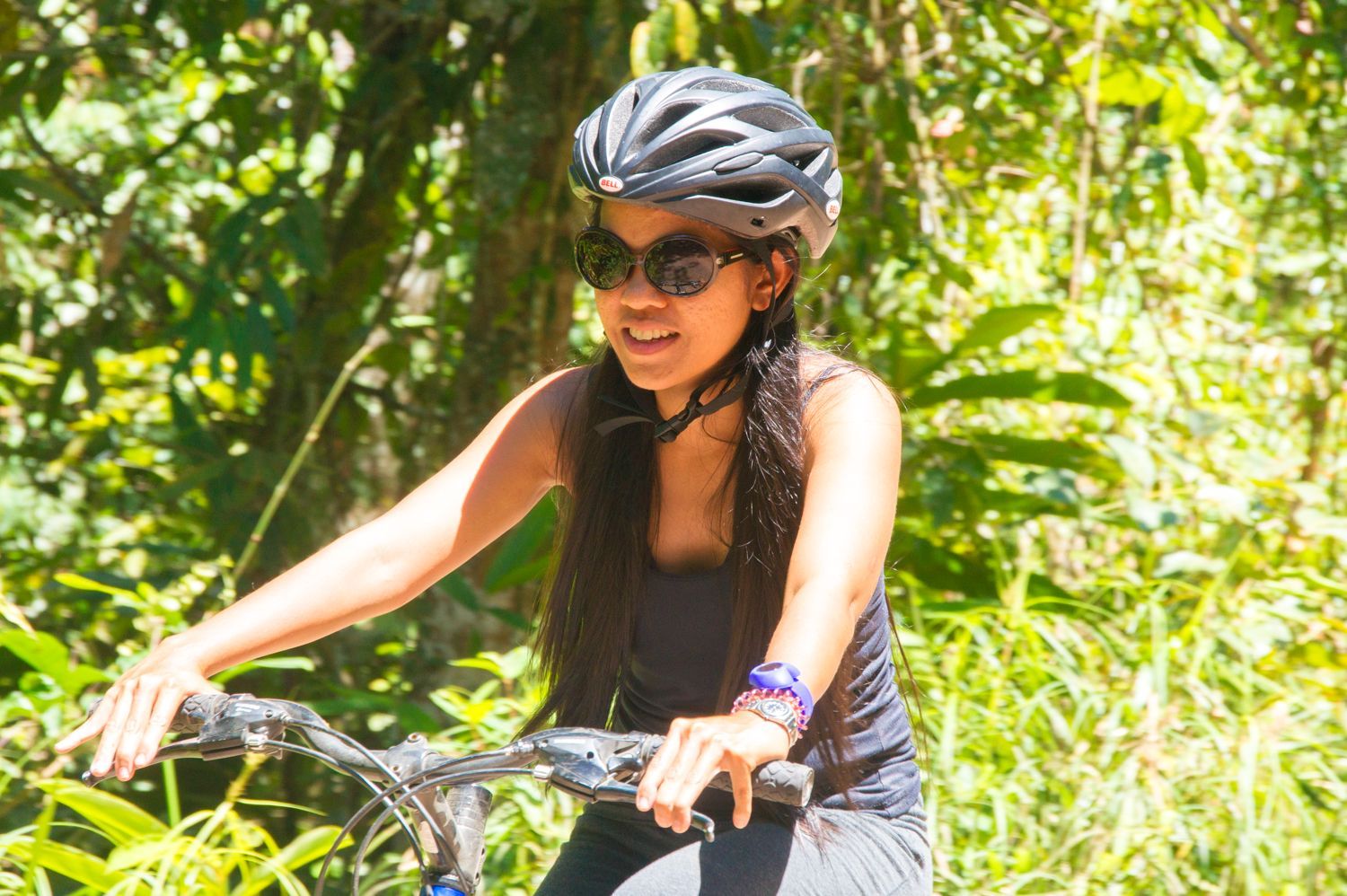 To Pedal or not to pedal?
Should I pedal or should I not? It was early this year when Simon decided to discover some cycling routes in Sabah for Bike and Tours. Having just returned from his one and half years of cycling journey from Switzerland to Cape Agulhas, I told him that I would go with him on this Borneo trip – but be behind the scenes. Meaning, when he cycles – I would be riding on the public bus or rented 4WD. The idea was not to slow him down whilst he cycles his way into the lush green rainforest of Borneo. At that stage I have not been on the two wheels for more than 10 years!!! This was the initial plan before we flew from KL to Sabah.
Are you strong enough for this bicycle?
It was only when we were speaking to one of our contacts in Sabah that the light bulb in my head sparkled with the idea that I should cycle as well. Maybe I could do it! Maybe Simon can cycle ahead of me and wait for me at a certain place while I play catch up! Maybe he can take one of those photos where I appear like a professional cyclist and send to National Geographic! Hey, why not? This would be cool. I put the idea of cycling 65km in a day aside. Don't know how to reach this point yet but I will deal with it when the time comes.
Fast forward, my adrenaline rush increased as I sat on the saddles, I gripped the handles and started pedelling. I was well equipped with the proper shoes, padded cycling shorts, energy bar, water, isotonic drink and fruit to sustain me during the journey. We started cycling from a small village in Sukau. I happily tested the 27 gears I had on this mountain bike. The last bike I had was a BMX and as I clearly remember, it didn't have any high or low gears. Anyways, it was not long till I figured how to adjust the gears accordingly. There were times when I cycled like a clown up the hill and didn't move a bit as the gear was too low! Hence, cycling with less force does not necessarily gets you to another point faster! It was an easy ride during the initial part of the journey as we cycled mostly on flat land through the villages, waved my hands to the residences at the village, took a few stops to hear what was going on in the jungle, spotted a few monkeys, monitor lizards and kingfishers.
Eventually, we were faced with a few up hills but it was nice to feel the breeze blowing in your face when we went downhill. The road was not too busy so we had the luxury to have an easy ride to appreciate Mother Nature. As we continued, the day started to get a bit warmer and warmer and eventually hot! The humidity level did not help either. It was even worst when we were faced with a few steep hills. But as Simon says "for every uphill there is a downhill for you to enjoy!" So each time I go downhill, I take this as my reward, I refuse to paddle until I reach a point where my bicycle becomes motionless.
After about 3 hours of cycling, my arms were a bit sore from gripping on the handles, my back ached and I had a minor headache from the lack of liquid. There was a point where I was too tired that I hopped off the bike and pushed my way up. Hey, I am only human right? And I have not been cycling for the longest time! It then started raining, and since we had only limited amount of time to secure our accommodation bookings, we decided to continue cycling regardless if it rained or not.
6 hours after we first started hitting the pedals and 65km later we reached Kampung Batu Puteh!!! As we changed mode of transportation from bicycle to boat to get to the eco camp, I thought to myself that was not too hard. Simon was of course giving me a lot of support and encouragement that I needed. Wait, scrap that, the last 7kms before reaching the destination, his "Go Tisha go!!! You can do it!!!" was rather annoying :) as I was tired and sweaty and sticky and all I needed was to reach the destination, have cold shower and wash my hair! And so I told him not to encourage me anymore and to just finish off by cycling quietly. Hahahah!!!
Anyways, long story short, I realized that this journey from Sukau to Kampung Batu Putih in Borneo Sabah has made me want to pedal even more. To challenge myself! So to pedal or not to pedal? Definitely pedal. It gives you a sense of peace and adventure whilst appreciating Mother Nature. And it is not just about being fit or having the stamina to cycle. I realized that it is also about having motivation, spirit and determination. All combined, and you will definitely achieve the results.
And for that, I will be pretty much involved when Bike and Tours does research on its future routes. I feel that at times the difference of opinion between Simon and me, the difference in cycling speed level that we have will give a good balance in terms of the product that we offer to our clients.
So come pedal with Bike and Tours in Borneo!!!