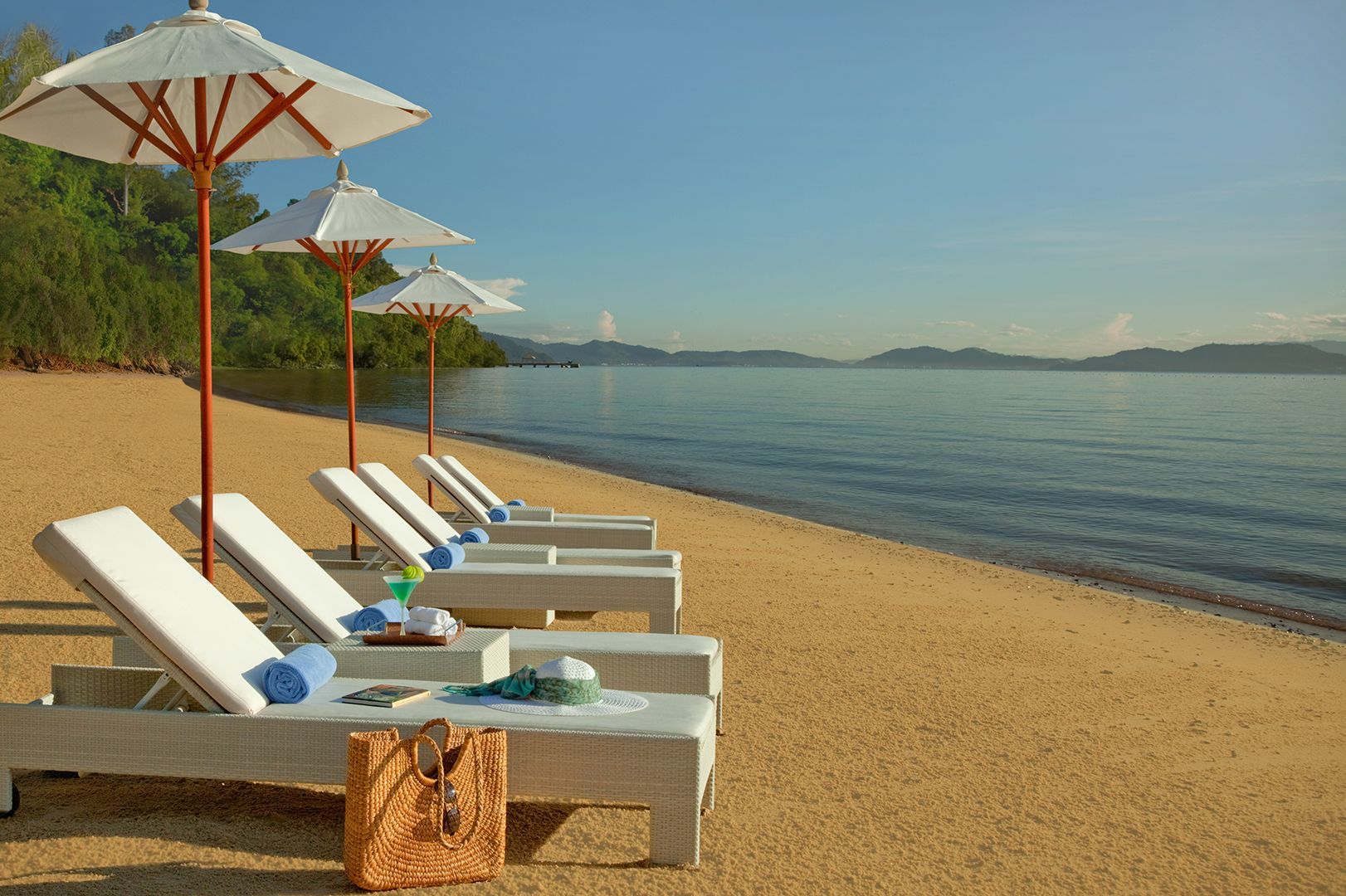 Gaya Island Resort
Accommodation
Beautifully situated, Gaya Island Resort is set amidst lush rainforest with breathtaking views of the wonders created by nature over thousands of years.


Ancient rainforest and protected mangroves surround the idyllic villas set in the hills. Spacious, tactile and modern yet respectful of local Sabahan elements, each accommodation uses local materials that blend harmoniously with the natural environment. Villa interiors are designed with a contemporary elegance and offer a variety of views including mangrove, canopy, tropical rainforest and the South China Sea.

Our villas' amenities include comfortable bedding, a writing desk, a powered safe, a flat screen television with satellite channels, a large open en-suite bathroom with an oversized bathtub and two vanity units, and an outdoor verandah with day beds.

Standard features and services in all villas:

Complimentary WiFi
Tea and coffee making facilities
Flat screen television with satellite channels
Powered safe
Minibar
Ceiling fan
In-room climate control
Selection of international newspapers

A conservation fee of MYR32 on the first night of stay and an additional MYR22 for each day thereof is applied to each guest, including children, for every night of stay by Sabah Parks, an organisation set up as the caretaker of Tunku Abdul Rahman Marine Park. The conservation fee is contributed to Sabah Parks in support of their effort towards preserving the rich ecosystem of the region.


Dining
Feast Village

Savour a vibrant, interactive dining experience that offers diverse cuisine from the Asia-Pacific region. Open for breakfast, lunch and dinner, the dynamic open kitchens showcase a bakery, Japanese/Korean, Asian and Western selections. The location by the lap pool offers stunning views of Mount Kinabalu and the surrounding beach.
Fisherman's Cove
Situated on the rooftop with a breathtaking view of Mount Kinabalu, Fisherman's Cove features a unique symphony of seafood themed dishes crafted by Chef Wai, the pioneer of this locally and internationally acclaimed restaurant, which focuses on sustainable fishing practices and the freshest ingredients.

The seaside restaurant welcomes children aged 12 years and above for the comfort of all our guests. Proper dress code is required with shirt, full-length trousers and shoes for gentlemen and smart casual wear for ladies.
Omakase
Surrounded by an ancient rainforest, this two-storey Japanese restaurant is perched on a hillside with a stunning view of Malohom Bay and Mount Kinabalu. Three Japanese omakase-style dining experiences are available under one roof ranging from teppanyaki, shabu-shabu and nabe. These heart-warming dinners will delight guests of all ages.
Pool bar & Lounge
Overlooking the resort's tranquil infinity pool and floating cabanas, the Pool Bar & Lounge with its al fresco location and natural light is the perfect place to relax after a swim or relish a casual lunch. In the evenings, enjoy sundowners and light refreshments as the sun sets over Mount Kinabalu.
Tavajun Bay
A short 5-minute boat ride from the resort, this tranquil private beach is perfect for relaxing under the tropical sun, lulled by a gentle sea breeze. Infused by local and international influences, lunch is a single dish meal made over charcoal embers which changes daily. Alternatively, simply pre-order a personalised gourmet picnic basket.

Private Dining Experiences
Breathtaking vistas, verdant greenery, waves crashing on the shore, or fresh, salty air to whet the appetite make our private dining experiences a treat for all the senses.


Every dining experience is a unique culinary adventure waiting to be explored with indelible memories to treasure for a lifetime.