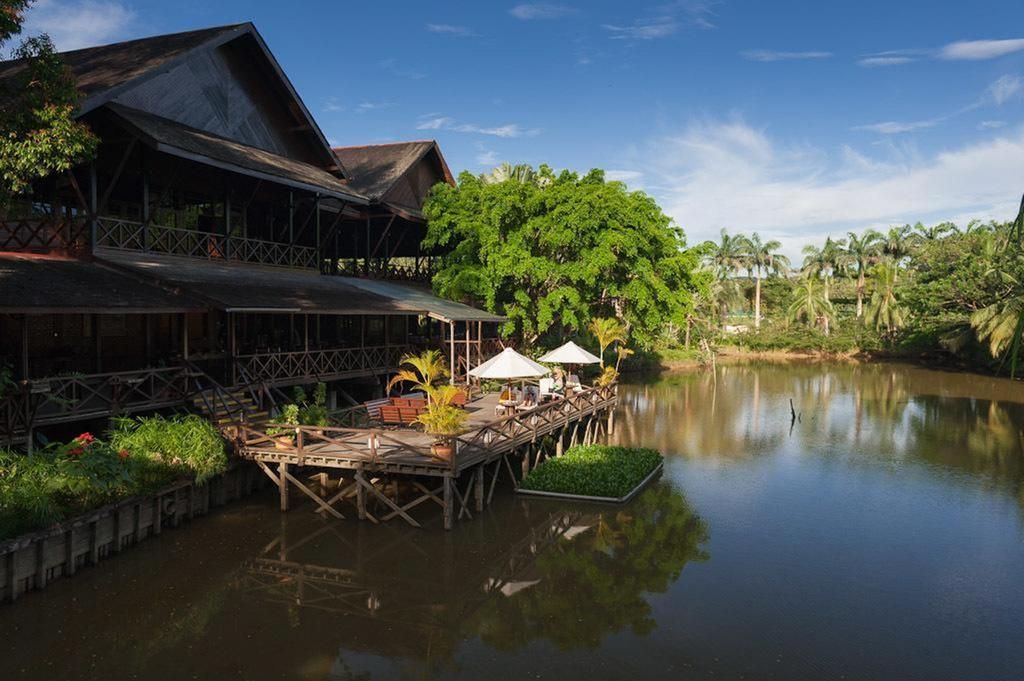 Sepilok Nature Resort
Borneo Forest is a natural wonder unlike any other that will make your stay in Borneo unforgettable. Spend your nights at the Sepilok Nature Resort, a natural wooden chalet with a private balcony overlooking a peaceful lake set in a lush tropical gardens. It is a cozy tranquil lodge nestled amidst the Sepilok rainforest, which is home to the endangered animals of orang utan and sun bears. So, fall asleep to the symphony of frogs and wake up to the sound of chirping birds and laughing gibbons or maybe an orang utan lounging on your terrace.
Located just 40 minutes from the Sandakan airport, Sepilok Nature Resort serve as a perfect base for travellers to explore various of wildlife and nature attractions around the Sepilok wider region. It takes only 5 minutes walking to the world renowned Sepilok Orang Utan Rehabilitation Centre and the Bornean Sun Bear Conservation Centre. Mean while, the entrance of the Rainforest Discovery Centre is around 15 minutes walking distance and it is also and ideal place if you are looking to go for the wildlife cruising along the Kinabatangan river or discover the surrounding Sukau area. The resort is also highly recommended for wildlife enthusiast as it is situated at the Border of the Kabili-Sepilok Forest Reserve,. Therefore, wildlife sightings within the area are quite common. But, you need a bit of luck to see iconic species. Some of the animals that have been spotted at the resort include macaque, monkeys, gibbons, tarsier, orang utan, civet cats, monitor lizards, various species of squirrels and and a wide range of birdlife such as hornbills and kingfishers.
The resort are comprises of 23 wooden chalets dotted around the lake, amongst naturally manicured gardens with over 150 different orchid species and rolling hills, which is an ideal place to rejuvenate after a long day of Borneo adventure. Surrounded by lush green rainforest, the accommodation at Sepilok Nature Resort is comfortably spacious and the rooms are beautifully decorated in a classic rustic style with polished woods, neutral deco and the occasional splash of colourful fabric. All chalets are furnished with a ceiling fan, air-conditioned, tea and coffee making facilities, mini rattan shelf, attached bathrooms complete with hot/cold shower, basic toiletries and bath towels. Each chalet has a private veranda, for you to relax and enjoy a fantastic scenery of either the lake or the gardens.
The check in hours for Sepilok Nature Resort, is at 2pm, while the check out time is at 12pm in the afternoon. Guests are welcome to explore the restaurant, lounge, sundeck and the covered beer terraces at the main building before checking in. The building was built in a charming traditional wooden interior and surrounded by thriving lowland tropical rainforest, reflecting a tranquil ambience. And as for the meals, Sepilok Nature Resort has a combination of local and western cuisine, which will be served for the guests overlooking the lake. Breakfast are usually served between 7am - 1030am, lunch at 1230pm - 2pm and dinner at 7pm -830pm.
Since the Sepilok Orang Utan Rehabilitation Centre is only 5 minutes away, you can catch up with both of the feeding session which starts at 10am and 3pm daily. Or enjoy a morning hikes at the Rainforest Discovery Centre, explore various fascinating jungle trails while learning the origin of the forest and watch wide array of beautiful Bornean birds at the canopy walks. As evening creeps in, venture out on a guided tour into the Sepilok forest trails in search of nocturnal animals and insects to experience the jungle at its wildest.